Newspaper Articles
More newspaper articles below:
New technology finds missing persons
SABC News, December 08, 2004
The developers of a new system says their technology can track missing people anywhere in the country, and beyond, by using a strand of hair. The equipment and system used is being kept top secret in Bloemfontein, but parents of children that were found say it really works.

The inventors say they only need DNA to find a missing person. The sample, technology and an advanced satellite system is enough to ensure a successful search.

Pierre Honiball, whose missing 14 year old son was found after 2 days, says the system works. "Undoubtedly there is a way to find somebody with whatever he uses and I can tell you this is the truth he found Andre within 25 minutes." Jos Chadinha's frantic search for his missing daughter ended 90 minutes after providing strands of her hair. "He found her ... and he found her simply using the instruments."

The method is still under wraps. Danie Krugel, a spokesman, says more needs to be done before the system is made public: "We are still in the experimental phase, the final stages of the experimental phase; we are not ready now to put equipment into the market place, but it came so quickly, the successes, that it caught us off guard."

Experts are skeptical, but it's too early to prove or disprove. The group is in the process of setting up a web page and a call centre to provide more information on their product.
Bloemfonteiner kry moordverdagte met haarmonster
Volksblad, Desember 21, 2004
DEBBIE SAUER
'n BLOEMFONTEINER wat mense aan die gons het ná sy talle suksesse in die opsporing van vermiste persone, het pas gehelp om 'n moordverdagte met behulp van hare aan sy skeerlem vas te trek.

Die stasiekommissaris van die Navalsig-polisiekantoor, supt. Milly Swanepoel, het gister gesê hulle sou waarskynlik steeds die moordverdagte gesoek het as dit nie was vir mnr. Danie Krugel se hulp nie.

Mense mag dink die man is dalk 'n "siener", maar hy belowe sy werk is op wetenskaplike tegnologie gegrond. "Ek kyk nie na 'n prentjie en konsentreer nie," het Krugel ligtelik gesê.

Volgens Swanepoel soek die polisie al sedert November na 'n verdagte in die moord van mnr. Pierre Smit, departementele assistent in die departement van argitektuur.

"Ons het informante uitgestuur, maar kon nie inligting kry nie. Ek het al voorheen saam met Danie gewerk om dwelmverwante misdade op te los en het sy hulp ingeroep," het Swanepoel vertel.

Krugel is deel van 'n groep in die stad wat met die navorsing en werking van dié opsporingstoestel werk. Met dié tegnologie, waaroor hy nie veel wil uitwei nie, behalwe dat hy mense met behulp van haarmonsters opspoor, is die afgelope vier weke ook vier vermiste kinders opgespoor .

'n Meisie (16) wat die naweek opgespoor is, is tot by die kus en weer tot in Gauteng gevolg nadat haar hare ontleed is. Krugel het hare op haar haarborsel gebruik. Nóg 'n seuntjie is opgespoor nadat hy (Krugel) hare van 'n kappie wat hy gedra het, gekry het.

Volgens hom het hulle al 'n man wat as proefkonyn opgetree het, so ver as Zambië gevolg.

"Ons het van die toerusting gebruik om grondstowwe te toets en Suid-Afrika is beslis die skatkis van minerale in die wêreld. Ons het later meer gevorderde toerusting gebruik sodat mense opgespoor kan word. Ek is soms steeds oorbluf oor die suksesse wat met die toestel behaal word," het Krugel vertel.

Hy het gesê volgens sy kennis is dit die eerste keer dat die polisie gehelp word om 'n moordverdagte met behulp van sy hare op 'n skeerlem op te spoor.

Volgens Krugel is die toerusting nie in die stadium te koop nie.

Vanweë inligting kon die verdagte se skeerlem opgespoor word en die hare wat agter die skeerlemvasgesit het, is gebruik. Swanepoel het gesê Krugel kon met sy opsporingstelsel die gebied bepaal waar die verdagte is en dan het die polisie toegeslaan. "Ons het die verdagte baie keer net-net gemis, omdat hy so baie in Bloemfontein rondbeweeg het," het sy gesê.

Die verdagte is gisternag in die Estoire-woonbuurt in hegtenis geneem. Volgens die polisie is die oorledene se selfoon by die verdagte gekry. "Ek sal Krugel beslis weer gebruik," het Swanepoel gesê.

Krugel meen hy wil eerder self hare bymekaar maak van diegene wat vermis is, maar 'n haarlok wat goed bewaar is, kan ook help.
Meisie glo verkrag en toe vermoor
Volksblad, Maart 15, 2007
Charlé Lombard
BRANDFORT. – 'n Klein lewetjie, vyf jaar oud, is vermoedelik verkrag en toe kortgeknip.

Die dorp was gister in rep en roer oor klein Naledi Portia Ntbele (5) se dood. Haar lykie is Maandag om 18:00, toegemaak in 'n skaapvel, in 'n doringbos gevind.

Talle polisievoertuie het gister voor die huis gestaan waar sy gewoon het. By die polisiekantoor op die dorp het sowat sewe seuntjies in hul skoolklere en verskeie volwassenes verklarings afgelê om die polisie in hul ondersoek te help.

In die huis in die woonbuurt Majwe Masweu, buite Brandfort, waar Naledi gewoon het, het familie gister verdwaas deur fotoalbums geblaai en gewys na foto's waarop sy is. "Hier is ek en sy en haar ma", het 'n verslae mnr. Jan Ntebele, haar pa, gesê. Hy en Naledi se ma, Miriam, werk albei in Johannesburg.

"Sy was 'n spelerige kind."

Familie het die Ntebeles Maandag om 23:00 gebel en meegedeel dat Naledi verkrag en vermoor is.

Naledi het Sondag by maatjies se huis twee huise van haar ouma s'n gespeel. 'n Vreemde vrou het om 18:45 verbygestap en gesê sy moet Naledi huis toe neem. Dit is die laaste dat sy lewend gesien is.

Naledi se ouma, mev. Ruth Ntebele, by wie sy gebly het, het haar om 21:30 as vermis by die polisie aangemeld.

Volgens insp. Harry Nagel, polisiewoordvoerder, het die polisie ná 'n lang soektog Maandag, die hulp van mnr. Danie Krugel ingeroep om te help soek na Naledi.

Hy het 'n apparaat waarmee hy mense kan opspoor. Kort nadat hy met sy apparaat 'n moontlike soekgebied aangedui het, is Naledi se lykie skaars 1,2?km van haar ouma se huis in 'n doringbos gevind.

Die plek waar Naledi se lykie gekry is, is sowat 200meter van die naaste huis.

Die veld is gebrand en voetpaadjies deurkruis die gebied. Onder haar lyk is die vere van 'n dooie voël gekry.

Die polisie ondersoek 'n klag van moord. Die polisie sê daar is 'n beloning vir enigiemand met inligting wat lei tot die inhegtenisneming en skuldigbevinding van die persoon of persone wat verantwoordelik is vir Naledi se dood. Volksblad het in die verlede reeds oor Krugel se apparaat berig.
Inventor's detection device tracks missing girl
City Press , March 18, 2007
Maryna van Wyk
THIRTY minutes. This is how long it took the Bloemfontein inventor of a human detection device to trace the body of a little girl who had been missing for a day.

The community and police searched in vain for five-year-old Naledi Ntebele of Majwe Masweu in Brandfort, Free State, after her disappearance last Sunday night.

The child disappeared when playing with friends near her grandmother's house. An unknown woman apparently said she would take her home, but never did.

Ruth Ntebele reported her granddaughter missing at about 9.30pm on Sunday.

Superintendent Johan Gelderbloem, commanding officer of the Brandfort police, called Danie Krugel on Monday for help.

Krugel, the director of protection services for the Central University of Technology in Bloemfontein, wanted four strands of hair from the missing child.

"We eventually found a single hair on her jersey,'' said Gelderbloem.

He said Krugel called him half an hour later and pointed out three routes in the area where the police should search.

"We would find Ntebele where the routes crossed.''

Gelderbloem walked along the second route with a compass and discovered Naledi's body wrapped in a sheep skin under a thornbush.

''This is the first murder of a child in Brandfort.

"All the police officials at the scene cried when we came across the gruesome scene,'' said Gelderbloem.

Naledi was apparently smothered and then raped.

Her parents, Jan and Miriam Ntebele, work in Alberton. They last spoke to their only child during a phonecall on Sunday morning.
She had asked them for a new pair of takkies.

"She was hurt and died a brutal death,'' said Ruth, Naledi's grandmother.

Krugel said that, as part of his research, which took place from February 2005 to November last year, he had conducted 38 missing person searches.

Just five of the cases had not been solved because, he believes, the missing people had been buried somewhere.

"Within 20 minutes after I set up my equipment in Brandfort, I picked up a signal. I try to help where I can and get mad when children are involved,'' he said.
Paedophile's victims found?
News24.com , July 30, 2007
Elsje Neethling
Bloemfontein - The entire country has been wondering, while the answer has been right under everyone's noses.

That's what a Bloemfontein inventor says after he possibly found the solution to the disappearance of six girls 18 years ago.

Danie Krügel, director of security services at the Central University of Technology in Bloemfontein, claims to have developed technology that can trace humans by using a hair sample.

He mapped out an area for M-Net's Sunday actuality programme Carte Blanche in Pretoria where he believes paedophile Gert van Rooyen and his friend Joey Haarhoff buried their victims.

Krügel obtained samples of hair from Annemarie Wapenaar and Yolanda Wessels, both from Kempton Park and both 12 when they disappeared on September 22, 1989 and November 2, 1989 and used his Matter Orientation System machine to attempt to trace their bones.

Although the investigation was kept secret for more than a year, Krügel makes no secret of his conviction that the bones that he and a Carte Blanche team traced to a railway yard in Capital Park, are those of the two girls.

The area is about 2km from Van Rooyen's house in Malherbe Street, Capital Park.

The bones of two women, as well as men's bones, have been dug out here along the Apies River, near a PPC cement factory.

He believes the remains of Odette Boucher, Tracey-Lee Scott-Crossley, Fiona Harvey and Joan Horn are also buried in the vicinity.

The police are now busy excavating the area.

Krügel has had many successes with his equipment, but he said this one had been his easiest so far.

"The signals from each one's hair led me right to the area near a railway line in Capital Park.

"I knew a year ago that I was right and that Anne-Marie Wapenaar and Yolanda Wessels lie buried there," he said. "It was a shock to see how the bones had disintegrated and had become brittle.

"Who do the bones of the men belong to? They looked like sponge-bones.

"I shudder to think how the girls were murdered.

"I realised that there was no chance of them being alive.

"I'm so sorry that I couldn't find them alive."

The police said in response "We're continuing the investigation".
---
Protect the future and existence of the African lion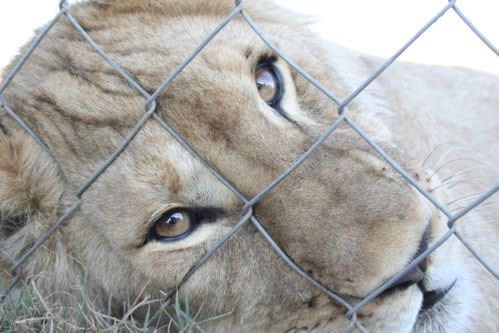 Mr. Danie Krugel recently visited a game farm outside Bloemfontein in the Free State Province. Krugel, an outspoken lover of wild animals opposes the canned hunting of half-tamed lions bred in captivity by supporting wildlife conservation projects for free roaming large predators (lions, cheetahs, leopards and wild dogs).
For more information visit: www.paws4lifeafrica.com